Yoga Teacher Training
Yoga Teacher Training will change your life! We highly recommend the Hatha Vinyasa Teacher Training offered by the Yoga Space. With weekend, weekday and intensive training, there's an option to suit your lifestyle. Visit www.yogaspace.com.au for details. Book your place in the Bali Intensive 350 hour Teacher Training below. Retreat and PD options also available. Accommodation choices are comfortable twin share or single occupancy resort rooms at the amazing Komune Resort, Keramas, Bali.
Yoga Space Intensive Teacher Training in Bali 2018
Join Chandrika and Michelle for this Yoga Australia accredited yoga teacher training in beautiful beachside Bali at the stunning Komune Resort. Start with 9 days of practice and deeply transformative workshops, all while immersed in a tropical paradise setting. Then undertake 12 months of mentoring and teaching experience to feel expertly supported as you emerge as the powerful, confident, kind of yoga teacher you want to be. With the long track record of the Yoga Space's high quality teacher training, you can be assured of the well researched, ethical and supportive team behind the training.
350 hour (Level 1) yoga teacher training @ Komune
Become a qualified and confident yoga teacher with Yoga Australia recognised training at the 350 hour level, including 12 months mentoring and ample teaching practicum.
Inclusions
Our Intensive training is an innovative and transformative way to become a yoga teacher with full Yoga Australia registration (350hr – Level One).
Our intensive is a complete body and spirit immersion in the art of teaching yoga. Each day begins with sadhana (practice) followed by sessions relevant to Yoga & teaching, presented by highly qualified specialists who are all experienced yoga teachers.
Location
The astonishing Komune Resort is a spacious, modern, tropical beachside delight. Less than an hour from Denpasar airport, and 25 minutes from the cafes and tourist scene at Sanur, you will feel as if you're in a lush jungle paradise, yet still be close to the action, and not have to spend endless hours travelling to get there. The world famous Keramas beach is a picture perfect surf break, with turquoise water contrasting against volcanic beach sand. Watch the waves from the beachfront pool, or relax in the spacious bar and restaurant, where the friendly Balinese staff will welcome you.
Accommodation
Your resort room is a modern, crisp, beautifully designed functional space with comfortable bed and stunning bathroom. Each room features your choice of a queen bed or 2 two singles, a private ensuite with shower, high speed Wi-Fi, satellite TV, couch and study desk, in-room safe, ceiling fan and of course air-conditioning to take the edge off. Twinshare or single occupancy rooms available. Non-yoga partners and children welcome, enquire for more information.
Food
Inspired by their organic gardens, chefs at the two onsite restaurants provide fresh and delicious western, asian and health food options to suit all tastes. Choose light and healthy, fresh, vegan meals at the Health Hub for breakfast (included), and then when you've worked up an appetite for something hearty, you could sample the poolside Komune Club menu, or explore surrounding areas.
Workshop Leaders
Join experienced yoga teachers Michelle Papa and Chandrika Gibson for kind, nurturing and inclusive yoga classes, skilfully facilitated yoga philosophy discussions and guided meditation.
Professional Development
If you're a yoga teacher who longs for the enriching experience of immersive yoga teacher training, you'll love our unique opportunity to retreat and relax while attending daily classes with experienced yoga teachers and participating in up to 6 yoga teaching workshops. Use it for Yoga Australia PD hours, or just for yourself. September 1 – 9, 2018 at the stunning Komune Resort, Keramas, Bali.  Click here to book through Yoga Space
Yoga Therapy Training
For qualified yoga teachers who want to take the next step and become Yoga Therapists, we offer a range of workshops and courses.
Living Yoga Therapy training is a Registered Yoga Therapist Training with Yoga Australia.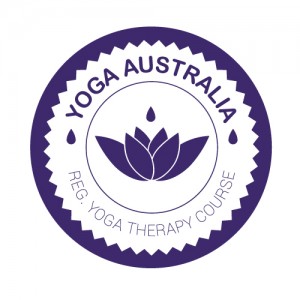 Our graduates use their skills in private practice, cancer centres, not for profits, palliative care units, yoga studios and allied health clinics.
Coming up:
January – June 2017  Online Mentoring Module (Module 3, prerequisites are either a ten day Foundational Training, or Module 1 and 2)
October 27 – November 10, 2017  Living Yoga Therapy Advanced Clinical Yoga Therapy Intensive in Hong Kong. Includes Yoga Therapy in Chronic Illness, Yoga for Cancer Care, Palliative Care: The Yoga of Dying and Therapeutic Sadhana: The Business of Yoga Therapy. No prerequisites apply.
Yoga for Cancer Care – Perth, Saturday October 7th, 2017
Palliative Care: The Yoga of Dying – Sunday October 8th, 2017
Yoga Therapy in Chronic Illness – Perth February 24,25, March 10,11, 24 and 25, 2018
Therapeutic Sadhana: The Business of Yoga Therapy – Perth May 5,6,19,20 and June 9,10, 2018
Visit our Living Yoga Therapy www.livingyogatherapy.com website to find out more about the training opportunities in Perth and Asia.